Get rid of
termites

 for good.
SMS/Text – Instant Chat Now – Click
See Our Reviews
Free assessment & treatment proposal.
"Hello my little friends…"
– Your local termite slayer
Get your
free treatment proposal

today
or
Termite Treatment Adelaide
You won't see them until the damage is already done…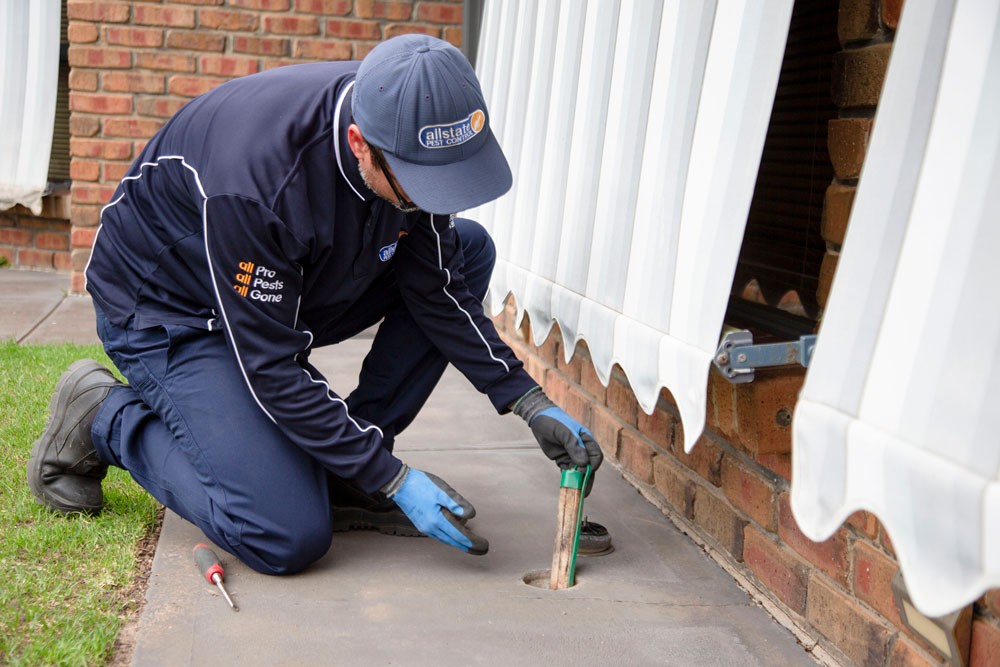 Termite treatment Adelaide
Protect yourself from the most destructive pest of them all with guaranteed Adelaide termite treatment.
Get your free quote today
Why Allstate Adelaide for your termite treatment?
Get your free termite treatment assessment and proposal
or
The danger of termites
Adelaide is home to some of the most destructive termites in the world. These ant-like insects feed on wood, which is why massive colonies of them can thrive within your home.
Unfortunately they stay very well hidden within your walls, roof cavity and subfloor, which is why without a qualified termite inspection they could cause hundreds of thousands in damage before you even know they're there. Even worse, your house insurance will rarely cover this.
That's why protecting your largest asset means getting an annual inspection, as well as installing termite protection in any new home.
I have termites – what are my options?
It's never a nice feeling when your termite inspector discovers a 'little' problem, but if you act fast we can eliminate the colony before they cause too much damage.
We'll assess the building, property, and state of the infestation to come up with the most effective plan to kill off the colony and prevent re-infestation.
Eliminate colonies and kill new termites before they're discovered
Allstate's flagship product, Sentricon Always Active, is a highly effective method for eliminating termites without the need for in-ground chemicals. It consists of in-ground baiting rods applied to the perimeter of your home.
Termites eat the rods as they find them more palatable than wood.
The rods contain an insect growth regulator which stops the moulting process and causes the workers to die.
The spread of the growth regulator ultimately eliminates the whole colony.
We also recommended Sentricon as a long-term solution to kill off new termites before they are even discovered.
A range of options suited to Adelaide & SA conditions
Where Sentricon in-ground rods aren't suitable, there are a variety of other methods we use. Premise is a chemical barrier well suited to South Australian construction methods and environmental conditions.
We create a narrow trench around the foundations of your home to apply the termiticide.
Termites can't detect the termiticide so they pass through instead of trying to find a way around it.
The termiticide causes the termite to become disoriented and stop feeding and grooming.
Before the termite becomes fatally diseased and dies, it spreads the chemical to other termites– ultimately killing off the entire colony.
New home protection – stop them from the start
If you're building a new home, the surest way to lower the risk of termites is with an effective termite barrier.
Allstate has a dedicated pre-construction division – working closely with builders to make sure you have potent termite protection from the beginning.
Our new home termite protection services include:
Kordon termite barriers – Adelaide's premium termite barrier which is installed in the construction phase
Side slab moisture protection to prevent side slab dampness and subsequent termite activity
Moisture barriers to reduce the risk of attracting termites
Concrete curing to prevent cracking that allows termite entry
Concrete repairs to close over any future termite ingress points
Get your free treatment proposal
Our expert team is ready to help you now
or
Frequently Asked Questions
How do I know whether I have termites?
How much does Adelaide termite treatment cost?
Termite inspections start at $198 and includes a detailed treatment proposal. The actual cost of treatment is variable depending on the solution needed, but can range anywhere between [number and number].
Do your termite treatments come guaranteed?
Yes. All solutions come with a re-retreatment and/or timber replacement warranty. The exact warranty varies from product to product, so this will be included in your proposal.
Do you offer pre-purchase termite inspections?
Yes, and we highly recommend them. While a building inspection is important, it doesn't cover termites so it's essential you also get a specialist timber pest inspection.
All our pre-purchase inspections exceed the Australian Standard 4349.3.
Our expert team is ready to help you now
or