Pest Birds?

We'll fix them in no time!
SMS/Text – Instant Chat Now – Click
See Our Reviews
Free Assessment and Proposal
Terms & Conditions Apply
Pest Birds?

We'll fix them in no time!
Free Assessment and Proposal
Terms & Conditions Apply
SMS/Text - Instant Chat Now - Click
See Our Reviews
Birds are messy, damage property, and spread lice and bacteria
Bird Control Adelaide
At Allstate Pest Control Bird Services we've been providing expert bird control and bird removal services to customers in Adelaide, South Australia since 1986. We remove all pest birds without physically harming them and our professional bird control team can help you select the right bird control method to suit your requirements.
Pest birds can cause damage to homes and businesses and can spread bacteria and disease. For Adelaide residents if you have a bird infestation, a problem with pigeons or birds nesting or swarming, we can help, just call us now for a fast and reliable response to anywhere in South Australia.
We can help with the control and prevention of all bird problems and we also offer a professional cleaning service for bird pests. We'll keep the birds away with our effective bird control services and pigeon control services in Adelaide.
Call us now for a professional bird control service you can trust, backed by a comprehensive warranty for added peace of mind.
Birds in your roof or around your home lead to more problems than you might think. While their feathers and droppings are very messy, they are known spreaders of disease-causing bacteria, while bringing biting insects such as mites and bird lice into your home. They can also cause significant damage, with many Adelaide homeowners reporting problems with their solar panels thanks to pigeons nesting underneath them.
Why are birds a health risk?
The bacteria and health problems that Adelaide birds spread include:
Salmonella

– a typhoid-like intestinal infection.

Ornithosis

– symptoms range from flu like illness to pneumonia.

Bird fanciers lung

– an allergic condition caused by exposure to dust inhaled from bird debris.

Cryptococosis

– a very serious illness, which begins as a lung infection but can progress to the meninges of the brain and cause Meningitis.

Escherichia Coli (E-Coli)

– contracted orally by ingesting food or water contaminated with a pathogenic strain shed by an infected person or animal. Recent research at Lancaster University UK has linked its spread to gulls.

Fleas, mites, lice and flies – these cause irritating bites, and are a further spread of infection to people using the areas close to nesting or roosting sites.
What to do about pest birds
Allstate Adelaide has a range of removal, prevention and cleaning solutions to keep pest birds away. Contact us for a free assessment and personalised proposal.
Why use Allstate Pest Control for your birds problem?
Our expert team is ready to help you now
or
Why use Allstate Adelaide bird control?
Solution tailored to your problem
Multiple removal and prevention techniques
Cleaning services available
Covering all suburbs of greater Adelaide, South Australia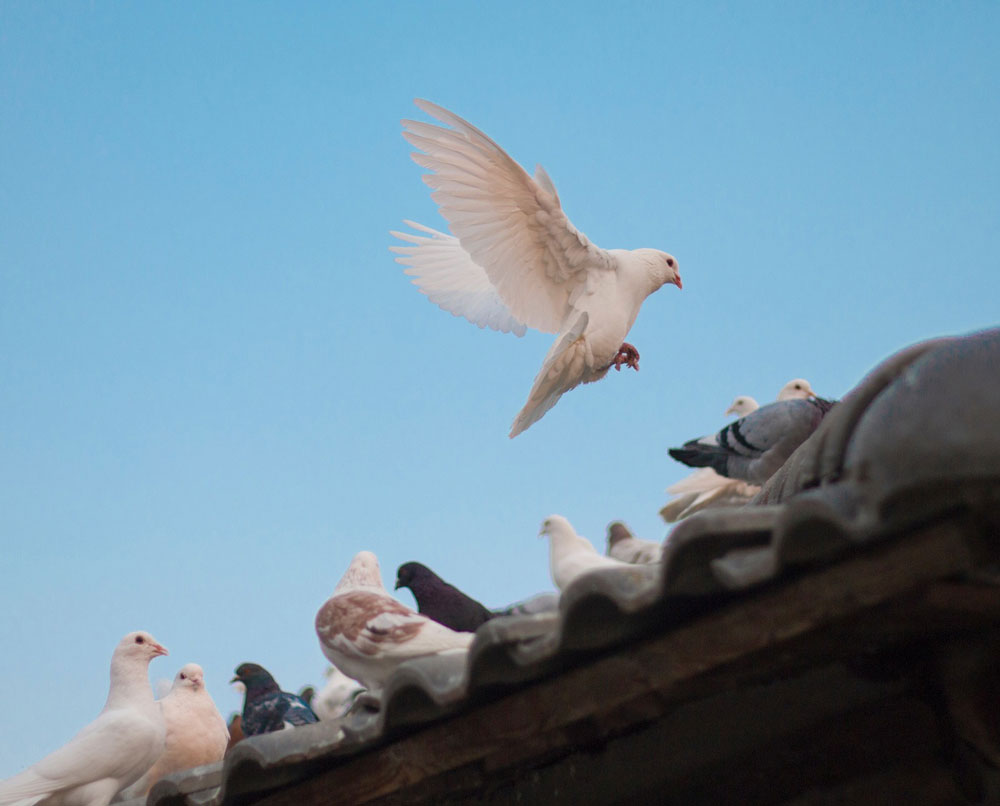 Our expert team is ready to help you now
or
How Allstate bird control works
We always start with a thorough inspection of the problem. We have a range of deterrents and preventative solutions available to keep pest birds away, and will tailor a solution to your situation.
Bird Netting
Bird Netting is one of the most effective ways to completely restrict pest birds in a humane fashion. Netting is versatile as it can be used vertically, horizontally or diagonally and is often used in high level infestations to completely displace pest birds from certain areas.
When installing netting we have three different sizes to choose from 19mm, 50mm and 75mm and different colours to match building facades. Frames can also be made to install netting to difficult areas. Correctly installed netting systems do not physically harm the birds, they just frustrate and encourage them to move on.
Bird Spikes
Pest birds usually land and spend most of their time on the leading edges of a building. Hanging over a leading edge ensures pest birds are protected from predators and they can over look their territory and scavenge for food. Bird Spikes prevent birds from settling by creating an insecure area for landing. Bird Spikes can be installed to prevent birds from roosting on exposed ledges, sills, steel beams, girders and other leading edges.
There are several types of bird spikes, (translucent, polycarbonate, steel, girder and gutter). All spikes are UV protected and come in different sizes and shapes for each individual application.
Bird Jolt
Bird Jolt Flat Track is a low profile, electrical track system that produces a mild electrical shock when birds land on its surface. Bird Jolt Flat Track's discreet design is ideal for use in areas where aesthetics are a concern; it measures ¼" at its highest point. The electric track can be installed to virtually any surface. The track is made from a flexible UV protected PVC base that can easily conform to curved or straight surfaces. The system is powered by an A.C. charger or solar charger.
When birds land on the Bird Jolt Flat Track, they receive a mild shock that will not harm them, but will caution them to stay away from the area.
Bird Wire
This system consists of tensioned Stainless-Steel wires that are secured between posts. As the pest birds try to land feet first, they encounter the unstable wire and are deterred from trying to land on exposed ledges, sills, steel beams, girders and other leading edges of a building.
Ideal for new buildings as it is a discreet and effective system to bird-proof properties. The components of this system are UV protected stainless steel and plastic.
Cleaning Services
Physical removal of nesting materials and fouling, we also perform a treatment using Bio-degradeable formulation to remove disease organisms associated with pest birds and staining.
There are many other options for bird pest control and Allstate can help, please contact one of our friendly staff for a free no obligation consultation.
Solar Panel Proofing
When birds nest under your solar panels it causes huge mess and costly damage to the panels and wiring systems. Solar panel proofing prevents birds from nesting underneath your solar panels altogether.
We carry out the proofing process by removing the birds, thoroughly cleaning the panels and surrounding area, then installing the proofing mesh. This is made of stainless steel black UV-coated wire mesh, which is specially designed to fit securely around your solar panels so that birds can't roost underneath.
Bird Shooting
Birds and pigeons especially are prolific breeders and persistent pests, and sometimes deterrents aren't enough to control an infestation. Where required, we can safely and responsibly eradicate a bird population with shooting.
Our bird control technicians are licenced to shoot pigeons, and accurately plan ahead for a time when the birds will be within range while causing minimal disturbance to neighbours.
Bird Trapping
Trapping is effective for removing large numbers of birds, and the process is carried out over several days. This method involves leaving a cage trap out with food in it for a day or two until the birds are comfortable walking in and out of it, after which we begin trapping them.
Once we have trapped enough birds to fill the cage we remove them from your property. The birds have food, water and shelter while in the cage to ensure the process is humane.
Our expert team is ready to help you now
or
Adelaide's Best Pest Bird Control Company