Commercial Pest Control Adelaide
Protect customers, staff and your business reputation
Pest Control for Property Managers
Allstate Business Pest Control
As Adelaide's leading commercial pest control service, we know the importance of non-disruptive pest control for your business. Allstate provides targeted pest solutions for businesses and commercial buildings across all Adelaide suburbs.
We keep pests out of your business thoroughly and cost-effectively, while only using treatments that are safe for people and the environment.
HACCP compliant and ISO 9001 certified
We are compliant with food safety standard HACCP and certified with quality standard ISO 9001. We are also members of AEPMA, which ensures the highest level standard of service for our customers.
Industry-specific solutions
Allstate Pest Control Adelaide offers customised treatment programs and solutions for all industries. Our Routine Pest Management program caters for all levels of pest control – from offices at risk of pest infestations to high-pressure pest environments such as restaurants and food chain companies.
Detailed multi-site reporting
Allstate Online is a customer portal that allows you to have oversight of your commercial pest service 24 hours a day.
Non-disruptive treatments
Our pest solutions work around your hours so that we don't interrupt your customers or operations.
Our expert team is ready to help you now
or
We service all industries, including:
If you're not satisfied with any of our pest control services, we will provide corrective service for no extra charge – or refund you if you are still not happy after 30 days.
Commercial Pest Solutions
Routine Pest Management Programs
A routine program uses prevention instead of reactive service to protect your business. Not only does this leave you confident you won't have an outbreak, but it also means we can use less pesticides than if we had to eradicate pests already there.
With a routine program, you can expect fast service, comprehensive follow-ups, email reporting, and trend analysis accessed through Allstate Online.
If you've had to stop or cut down on trading due to COVID-19, don't let your pest program go! We're now offering a lower cost Reduced Activity service. We will continue only with the parts of your program needed while you're unoccupied, so that pests don't overrun your premises while you're gone.
As part of your pest management program, our portal Allstate Online gives you control and oversight of your pest service 24 hours, 7 days a week. Well-suited to businesses with multiple locations, the portal allows you to: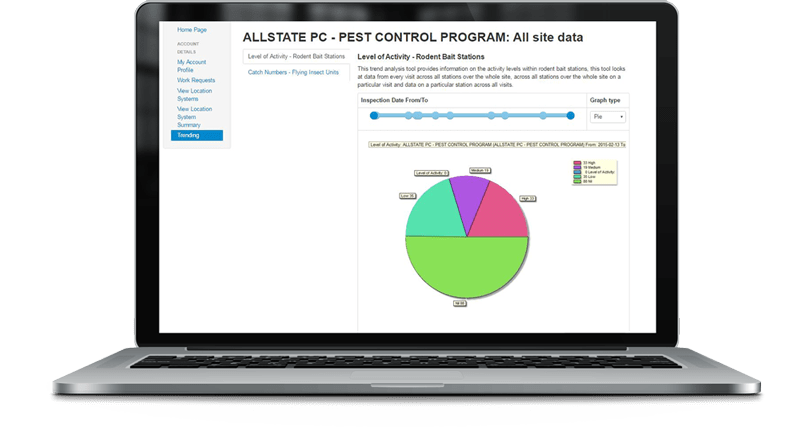 Access comprehensive job details
Communicate with your pest technician and responsible officer
Download pest control service reports and risk management records
View and upload images and documents against jobs
Download flexible trend analysis
Download compliance documentation
Routine Pest Management FAQs
Why get Routine Pest Management?
Routine Pest Management programs prevent the risks of pests disrupting business, damaging business reputation or causing compliance issues. We recommend this program for any food-related operation, any business that has had a previous pest outbreak, or a business in close proximity to areas that attract pests.
How does it work?
A commercial pest control consultant will conduct an assessment, then put together a detailed proposal with recommendations. We will then service your business monthly, bi-monthly or quarterly depending on your program.
What programs are available?
There are three Routine Pest Management programs: Maintenance, Active and Vigilant.
Maintenance is quarterly and for businesses in low-risk industries who have either had a previous outbreak, or are close to a restaurant, body of water or other place that attracts pest.
Active is bi-monthly and for those at higher risk of attracting pests.
Vigilant is monthly and for food-related businesses and those who need regular pest control to stay compliant.
What does the program include?
Our expert team is ready to help you now
or