No
termite

 can hide from us!
SMS/Text – Instant Chat Now – Click
See Our Reviews
Detailed Termite Inspection
OR A Free Assessment and Proposal for Treatment.
No
termite

 can hide from us!
Detailed Termite Inspection
OR A Free Assessment and Proposal for Treatment.
SMS/Text - Instant Chat Now - Click
See Our Reviews
or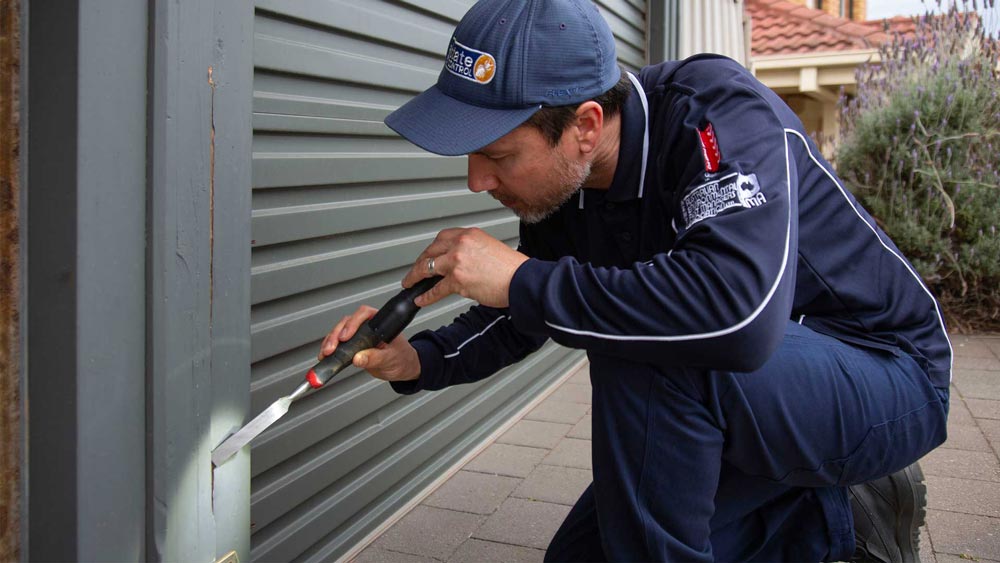 Termite Inspections Adelaide
You won't see them until the damage is already done…
Did you know termites cause hundreds of millions in damage every year, and most of it isn't covered by insurance. That's why professional termite inspections Adelaide are essential for protecting your home or business.
Don't wait!

Book with Adelaide's most experienced termite inspectors today.
Why trust Allstate Adelaide with your termite inspection?
Guaranteed fixed price inspection with free assessment for treatment
or
What are termites?
Adelaide is home to subterranean termites which are some of the most destructive in the world. These small ant-like insects feed on wood and plant matter, which makes houses and other buildings an attractive home and feeding site for them to build their colony.
When winged termites are old enough to start their own colony, they will find a suitable feeding source. Quite often this is a building, and they will gain access to its interior, roof void or subfloor, where they will feed on timber and grow their colony, sometimes to 2 million in the space of a year.
Why inspect your home for termites?
Termites are very discrete insects – quietly feeding away on the insides of your walls while you are none the wiser. While you may eventually be able to spot visible signs of termites, by this stage they would have caused extensive damage to your home and even compromised its structure.
Given how common termite infestations are, the CSIRO recommends you get an Adelaide termite inspection at least every 12 months.
What does an Allstate termite inspection involve?
Allstate's highly trained termite inspectors use a range of tools and techniques to detect any termites within your home or property. We use a range of tools including:
Sounding tools to test the integrity of the wood.
Moisture readings to find any areas of excess moisture (a good indicator of a possible infestation so that we can dig deeper).
Movement detectors to check for termite activity.
Borescopes to take pictures of active termites in timber.
We also visually inspect for signs such as ingress points and mud tubes.
At the inspection's completion your termite inspector will give you a detailed report with all their findings.
What if termites are detected?
If your inspector discovers termites, they will assess your property for treatment options and put together a proposal free of charge.
Frequently Asked Questions
When should I book an inspection?
You should get an inspection done at least once every 12 months. If you haven't had one yet, we recommend booking it as soon as possible.
What areas of the building and property do you inspect?
We follow a detailed checklist to ensure we inspect every part of the property that we possibly can. This includes:
Interior – each room is checked top to bottom using a moisture metre, sounding tool and screwdriver.
Roof void – where we can access the roof void we will check over all the timbers with a sounding tool.
Subfloor – if you have a void under your floor known as a subfloor we highly recommend inspecting this space, as this is where most termite attacks begin. We gain access by cutting traps in the floor or detecting termite entry with our Borescope.
Exterior – we use a sounding tool to inspect the full perimeter of the house.
Outbuildings – we inspect the interior and exterior of every outbuilding.
Grounds – we inspect your grounds for signs of termites, particularly landscaping timbers, gardens beds, trees, stumps and the fence line.
Should I get a termite inspection before purchasing a new home?
Yes. Your regular building inspection doesn't cover timber pests, so it's highly recommended you get a termite inspection as well to safeguard against any possible future heartache.
What will be in my termite inspection report?
Your report will include:
Details of what was inspected as well as anything that couldn't be and why
Photos and explanations of findings
Any conditions increasing the risk of termite attack (such as leaking taps, foliage against the house etc)
Recommendations for a further invasive inspection where required
Recommendations for treatment if required
Recommended inspection frequency in the future
Our expert team is ready to help you now
or