Pest Control for Restaurants
Stay compliant and uphold your reputation
Integrated pest management solutions
Compliant with industry regulations
ISO certified and HACCP compliant
Emergency pest control available
Restaurants are highly appealing to a wide array of pests, due to the abundance of fresh food, stored ingredients, and different customers, staff, and suppliers frequenting the premises. Once pests have made it into a restaurant, they can contaminate food, deter customers, and bring about hefty fines or even businesses closure.
The only sure-fire way to prevent pests in your restaurant is with an integrated pest management strategy. This approach enables you to stop pest problems before they start as well as limiting the amount of chemical treatments you will need.
Allstate's trained pest controllers can help you keep your restaurant (and reputation) healthy through our Routine Pest Prevention Program. This is an integrated pest management strategy that makes it easy for restaurants to proactively treat pests, and at the same time minimise the impact on your daily operations and keep staff and customers safe.
Common Pests in Restaurants
Our expert team is ready to help you now
or
Integrated pest management
We know how important it is to keep pests under control in your restaurant. In hospitality, reputation can make or break a business. Even if guests don't notice a pest problem, auditors will.
Allstate's Routine Pest Management Program is our forward-thinking approach to pest control, using up-to-date integrated pest management strategies. This program uses pest behaviour knowledge and proven techniques to prevent problems and treat pests with minimal impact on people and the environment.
Step 1: Pest Inspection
A trained pest control technician will inspect your business to create a personalised management program. This inspection includes:
Inspecting the premises for entry points and potential pest dwelling areas
Understanding how business is conducted in your restaurant (e.g. how food is received, handled, and stored)
Checking any previous pest reports
Assessing the surrounding area, such as environmental risk factors, and how pests behave in your unique environment
Step 2: Assigned a Pest Control Officer & Team
Following the inspection, Allstate will assign you a pest control officer and team. You can be sure that your pest management is being handled by someone who understands your business.
Step 3: Provided with a Unique Pest Management Program
With the knowledge your pest control team has gained through the inspection, Allstate will create an individualised pest management strategy.
This plan is designed to preventatively manage pests to avoid future infestations. The plan can include:
Guidance for staff on prevention methods
Information on future pest inspections
Control methods both physical and chemical
Advice for managing the surrounding environment
Building and maintenance exclusion practices
Step 4: Access to Allstate Online
You can manage your pest control, monitor progress, and more through Allstate Online, our 24/7 online portal.
Compliant pest management
Hospitality is a heavily regulated industry, in order to ensure customers can enjoy great dining experiences without risk to their health and safety. If your pest management strategy isn't working, you may be at risk of heavy penalties.
As an Adelaide owned and run business, it's important to us that local businesses thrive and don't get penalised over avoidable issues. We are committed to managing pests safely and our programs are compliant with all relevant regulations including HACCP.
View your information anywhere, any time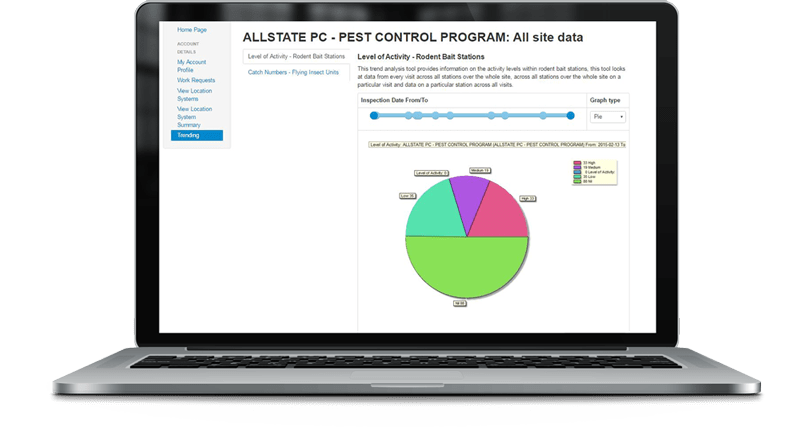 Restaurants are a fast-paced business, which means that timely pest control is crucial but sometimes tricky.
No matter what time of day (or night) you spot a pest, you can use the 24/7 online reporting Allstate Online tool to quickly get advice and solutions.
Using Allstate Online, you can also:
Access comprehensive details on your restaurant's pest control and prevention strategies
Oversee pest control across various business locations
Communicate with your pest control team
Download and view service reports and risk management records
Upload images and documentation
View trend analysis
Easily download compliance documentation when needed for audits
Pest control at all hours
Allstate's pest solutions are designed for flexibility. We offer varied appointment times and can implement your pest control strategies around your business hours.
Certifications & Compliance
When hiring Allstate for your pest control needs, you can be assured that you are getting high quality, knowledgeable service.
Our team members are certified and compliant with Australian standards, including:
Food safety standard HACCP
Quality standard ISO 9001
SAI Global certified as a quality endorsed company
Licensed by the SA Government Department of Health
Active members of Australian Environmental Pest Managers Association
In restaurants, it's important to get pests under control quickly. If you need emergency pest control for your restaurant, Allstate are available 24 hours a day, 7 days a week.
Our expert team is ready to help you now
or