Safe, proactive methods to protect students and staff
Integrated pest management solutions
Non-disruptive treatments
ISO certified and HACCP compliant
Schools are breeding grounds for pests of many shapes and sizes, but managing pests in schools shouldn't come at the cost of children and staff's health and safety.
That's why integrated pest management is so important. This is a prevention-first approach that hones in on areas where pests live and breed, so you can halt pest problems before they even start and avoid riskier exterminations.
Allstate are leaders in integrated pest management through our Routine Pest Prevention Program. This is designed to keep schools and educational facilities ahead of pests with minimal disruption to day-to-day activities. It includes personalised plans, dedicated pest control teams, and up-to-date technology, making pest control for your school efficient and easy.
Our expert team is ready to help you now
or
Integrated pest management
Integrated pest management is a strategic approach to pest management; it uses knowledge of their behaviour to control them proactively with the least possible harm to people and the environment. Given the safety considerations in an educational environment, it's the best choice for effective treatment with minimal chemicals.
Allstate's Routine Pest Program uses integrated pest management to ensure highly effective, safe, and long-term pest control in school settings.
It consists of four main steps.
Step 1: Pest Inspection
Your trained pest control technician will perform a comprehensive inspection to understand your school's individual needs, including:
The layout and design of buildings and grounds
The school's daily operation and how each space is used
Assessing areas of potential pest dwelling and entry points
An in-depth understanding of food areas (e.g. tuckshops, cafeterias, and staff kitchens)
Analysing previous pest reports
Examining the local environment for additional risk factors
Step 2: Assigned a Pest Control Officer & Team
After your inspection, you will be assigned a responsible officer and pest control team, who fully understand your school and its unique pest control needs.
Step 3: Provided with a Personalised Program
Allstate use the knowledge gained from the initial inspection to create a personalised pest management program designed for your environment.
This plan is an in-depth resource for both your facility and your pest control team and can include:
Building and maintenance exclusion practices
Guidance on housekeeping and sanitation for students and teachers
Advice for suppliers entering the premises
Information on future pest inspections
Control methods
Advice for managing the surrounding natural environment to reduce risk
Step 4: Allstate Online Access
Allstate Online gives you control and oversight of your school's pest control 24 hours, 7 days a week. You can use it to access all your pest management details and compliance documentation, track and analyse trends, and directly communicate with your pest control technicians.
Your Allstate Routine Pest Management Program makes children and staff safety a number one priority. We only use APVMA approved pesticides and are certified to meet HAACP standards to control pests in food areas.
Allstate also employs various other safety measures, including:
Implementing a prevention-first approach, reducing the need for harsh chemicals and methods
Confining treatments to the smallest practical area for effective treatments
Avoiding treatment in areas readily accessible to children (e.g. playground equipment and sandpits)
Spraying in optimal conditions to avoid spray drift and undesirable environmental factors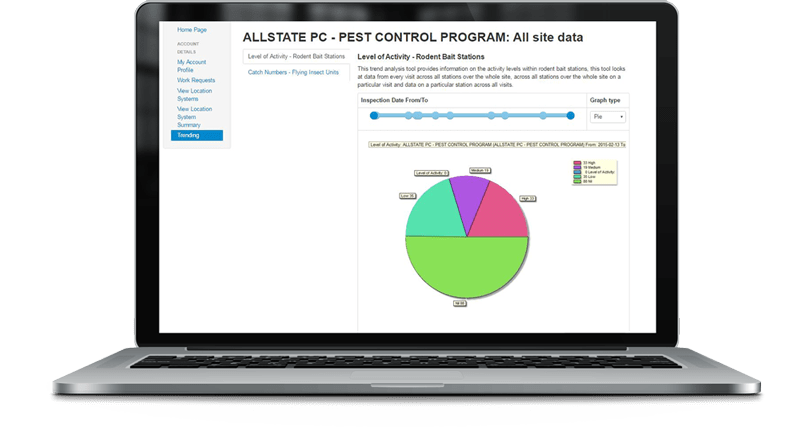 The Allstate Online Portal, makes it effortless to stay up to date on your pest management.
Through the portal, you can:
Access comprehensive details on your school's pest control and prevention strategies
Communicate with your pest control team
Download and view service reports and risk management records
Upload images and documentation
View trend analysis
Easily download compliance documentation when needed for audits.
Flexible appointment times
Your Allstate pest control team work flexibly to ensure the utmost safety when providing services.
We follow Austrapest guidelines, and recommend that any pesticide treatments are applied during school holidays to minimise risk, or on Friday evenings or weekends.
Certifications & Compliance
For your peace of mind, Allstate team members are certified and compliant with Australian standards, including:
Food safety standard HACCP
Quality standard ISO 9001
SAI Global certified as a quality endorsed company
Licensed by the SA Government Department of Health
Active members of Australian Environmental Pest Managers Association
While Allstate believes preventative measures are the best approach for pest control, we understand that emergencies happen.
In the case of wasp swarms, sudden rodent infestations in food areas, the appearance of venomous spiders, and other emergencies, Allstate are ready 24/7 to offer urgent pest control.
Our expert team is ready to help you now
or