Pest Control for Retail Centres
Proactive pest management for shopping centres of all sizes
Integrated pest management solutions
Non-disruptive treatments
ISO certified and HACCP compliant
Because shopping centres are frequently bustling with people, unfortunately they also attract pests. With a mixture of retail and foodservice venues, including supermarkets, butchers, cafes, and fast food, if pests aren't managed proactively they can quickly get out of control and lead to health and safety risks.
Fortunately Allstate's Routine Pest Prevention Program provides a cost-effective and powerful way to stay on top of your pest control. Using an integrated pest management strategy, the Allstate program allows you to control pests safely and effectively with minimum disruption to your retail centre.
Combining a personalised program with modern technology, Allstate's program will keep your centre compliant, pest-free, and your tenants happy.
Common Pests in Retail Centres
Our expert team is ready to help you now
or
Integrated pest management
Managing pests in retail centres can be difficult unless you have an integrated pest management system in place.
Allstate's Prevention Program uses integrated pest management – a proactive approach to pest control that uses knowledge of pest behaviour to control them before any serious outbreaks occur. The Allstate program consists of four parts to ensure long-term, effective, and safe pest control in retail centres.
Step 1: Pest Inspection
Allstate's trained pest control team will thoroughly inspect your premises, including:
The layout and design of the shopping centre
All entry points for pests and potential dwelling areas, including high traffic areas (e.g. customer entrances and loading docks)
How different areas of the centre operate
Checking any previous pest reports
Assessing the surrounding environment
Step 2: Pest Control Officer & Team
After the inspection, Allstate will assign you a responsible officer and team. They are highly knowledgeable about your retail centre and its individual pest control program.
Step 3: Implement a Unique Pest Control Program
Following the inspection, Allstate will create and implement a unique pest control program.
The plan is a complete resource for your facility and can include:
Staff training
Advice for suppliers
Inspection regime
Control methods (physical, cultural, sanitation, and chemical)
Advice for managing the surrounding environment
Warehouse maintenance guidelines
Step 4: Access to Allstate Online
With our program, you will be given access to Allstate Online. You can use the online portal to stay informed on your pest management strategy, quickly download compliance documentation, track and analyse trends, and contact your pest control team.
Safe and discreet pest control
As an Adelaide owned and operated business, Allstate takes the safety of you and your customers very seriously.
With a wide variety of customers using your shopping centre, including children and the elderly, it's essential that any pest control methods used are non-hazardous to people. We also understand the need for pest management programs to be discreet, for the reputation of both the centre and its businesses.
The Allstate team only use APVMA approved pesticides, maintain up-to-date knowledge on safety protocols, and employ a varied range of safety measures.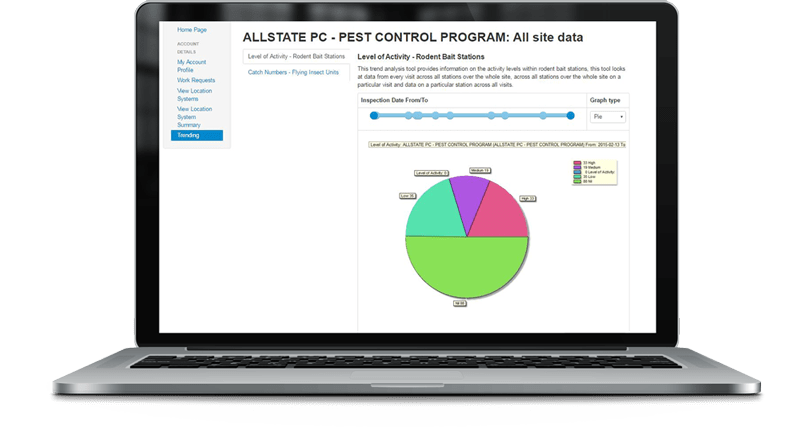 With the Allstate Online Portal, you can be in control of your pest management strategy 24 hours a day, seven days a week. You can:
Contact your pest control team directly
Download and view reports and records
Review your pest control and prevention strategies
View trend analysis
Quickly download compliance documents for audits
Upload images and documentation
Non-disruptive treatments
It's essential to discreetly and safely treat pests in retail centres. The Allstate team work flexibly to ensure minimal customer interruption and high levels of safety. We can implement your pest control program outside of operating hours, so your retail centre keeps running smoothly.
Certifications & Compliance
Allstate's team members are highly experienced and certified, including:
Food safety standard HACCP
Quality standard ISO 9001
SAI Global certified as a quality endorsed company
Licensed by the SA Government Department of Health
Active members of the Australian Environmental Pest Managers Association
In the event of a pest emergency in your retail centre, Allstate are ready to help. We are accessible 24/7 to offer urgent pest control and professional advice.
Our expert team is ready to help you now
or