Prevent all pests – safely and discreetly
Integrated pest management
Safe for visitors and staff
Non-disruptive treatments
ISO certified and HACCP compliant
With a high turnover of visitors, hotels, motels and other accommodation businesses are at increased risk of pest infestations. Attempting pest control without professional help in such a fast-paced environment can have costly and potentially damaging results.
A prevention-first strategy is essential managing pests in hotels. From bedbugs hitching rides on customer suitcases to ants finding your kitchens, all areas of hotels are at risk for pests, so you need a proactive approach.
Allstate's Routine Pest Prevention Program stops pests well before they become a problem. By implementing an individualised, integrated pest management strategy for your accommodation facility, you can keep guests and staff protected from both pests and unsafe pest control methods.
Our expert team is ready to help you now
or
Integrated pest management
Integrated pest management is a prevention-first approach to pest control, using knowledge of pest behaviour to control them early on.
Allstate's four-step Routine Pest Management Program uses integrated pest management to ensure your hotel remains safe and continuously compliant.
Step 1: Pest Inspection
Allstate's trained pest control team will thoroughly inspect your accommodation facility, including:
The layout and design of the building
How the hotel operates (e.g. how rooms are cleaned and how food is stored and prepared)
Looking for entry points and potential pest dwelling areas
Checking any previous pest reports
Examining the surrounding area for higher-risk environmental factors
Step 2: Pest Control Officer & Team
After the inspection, Allstate will assign you a responsible officer and team to create and execute a personalised strategy.
Step 3: Implement a Unique Pest Control Program
With the knowledge collected during the in-depth inspection, Allstate will provide you with an individualised prevention and treatment program.
The individuality of this plan is important to the success of your pest control. It is designed to prevent and control pests in a way that suits your unique environment.
The plan can include:
Prevention management strategies and pest-awareness guidance for staff
Advice for suppliers
Frequency of future inspections
Control methods
Advice for managing any environmental risk factors
Building and maintenance exclusion practices
Step 4: Access to Allstate Online
Allstate's remote pest management program also gives you access to the Allstate Online portal.
Using Allstate Online, you can control and oversee pest control in your hotel 24 hours, 7 days a week. Easily view your plan details, download compliance documentation, track and analyse trends, and connect with your pest control team.
Safe for customers and staff
With the safe and discreet methods of control used by Allstate, you can be confident that your customers and staff are safe while your pest management plan is in place.
The Allstate team are certified to meet HACCP standards in food safety and follow all government guidelines and requirements when treating pests in hotels. We only use APVMA approved pesticides, and are ISO9001 certified.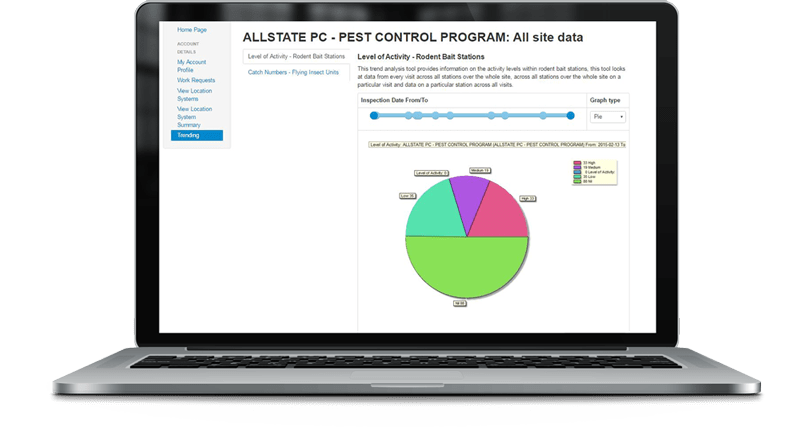 Hotels are a 24/7 business, and your pest control should be too.
With the Allstate Online Portal, you can stay up-to-date on your pest control needs, no matter what time of day. You can:
Communicate with your pest control officer
Download and view reports and records
Access thorough details on your pest management plan
View trend analysis
Download compliance documents
Upload images and documentation
Non-disruptive treatments
We know how important it is to manage pests discreetly, so we offer flexible appointment times for your pest management.
Certifications & Compliance
The Allstate team are highly knowledgeable, experienced pest controllers. We are certified and compliant with Australian standards, including:
Food safety standard HACCP
Quality standard ISO 9001
SAI Global certified as a quality endorsed company
Licensed by the SA Government Department of Health
Active members of the Australian Environmental Pest Managers Association
Although preventative measures are key to pest management in hotels, we know that emergencies happen. If you need emergency pest control for your hotel, you can contact Allstate 24 hours a day, 7 days a week.
Our expert team is ready to help you now
or