Pest Control for Hospitals & Medical Centres
Safe and effective pest programs
Integrated pest management solutions
Non-disruptive treatments
ISO certified and HACCP compliant
When it comes to health and safety in healthcare facilities, pest control plays an important role. Pests can arrive on visitor's clothing, gifts, through doors, windows, roofing, food deliveries, and more. And once they're inside, they pose a significant risk to patients, staff, and visitors.
The safest way to control pests in healthcare settings is with an integrated pest management program. This ensures pests are prevented before they become a problem while maintaining the health and safety of your patients, staff, and visitors.
Allstate's Routine Pest Prevention Program uses integrated pest control strategies to prevent the risk of any pest outbreak in a medical facility. The customised program includes personalised plans, dedicated pest control officers, and modern technology for safe and efficient pest management.
Common Pests in Hospitals & Medical Centres
Our expert team is ready to help you now
or
Integrated pest management
Integrated pest management uses expert knowledge and experience to proactively control pests, reducing the need for riskier, less environmentally friendly treatments. With an integrated pest management strategy, you can be confident that your hospital or medical centre won't be at risk of an infestation.
Allstate's Routine Pest Prevention Program provides highly effective, safe, and long-term pest control for healthcare facilities in four steps.
Step 1: Pest Inspection
Your Allstate pest control technician will thoroughly inspect your healthcare facility, including:
The layout and design of buildings and grounds
Daily operations
Any food preparation, storage, and serving areas
Assessing areas of pest entry points and any potential dwelling areas
Analysing previous pest reports
Examining the local environment for risk factors and prevention opportunities
Step 2: Pest Control Officer & Team
A strong understanding of your facility means that your integrated pest management plan can be implemented quickly and effectively. Allstate will assign you a responsible officer and pest control team, who will manage your hospital or medical centre's pest control needs and current strategy.
Step 3: Personalised Program
The Allstate Routine Pest Prevention Program's greatest advantage is the personalised pest management strategy designed for your unique environment.
This plan is an in-depth resource for your facility and pest control team, and includes:
Building and maintenance exclusion practices
Guidance on housekeeping practises and sanitation for staff
Advice for suppliers entering the premises
Frequency of future inspections
Control methods (physical or chemical)
Advice regarding the surrounding environment
Step 4: Allstate Online Access
Allstate Online gives you 24/7 control and oversight into your facility's pest management. With Allstate Online, you can access your pest management and compliance documentation, track and analyse trends, upload documentation and photos, and communicate with your Allstate team.
Allstate takes the safety of your patients, staff, and visitors seriously. Our pest controllers only use APVMA approved pesticides and are certified to meet HACCP standards when controlling pests in food areas.
We also employ a wide range of other safety measures. Allstate always emphasises proactive pest control to reduce the use of harsh chemicals, and implementing treatments in the safest way possible.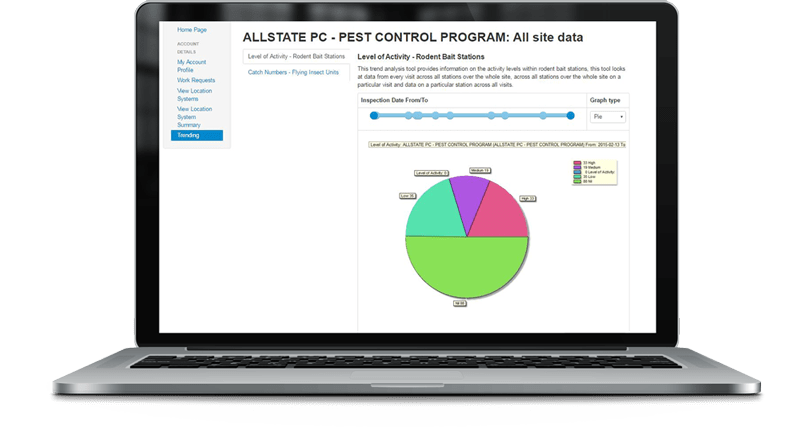 The Allstate Online portal makes it quick and easy to access information about your facility's pest management strategy.
With Allstate Online, you can:
Contact your pest control team directly
Review complete details of your facility's pest control and prevention strategies
Download and view service reports and risk management records
Upload images and documentation
View and analyse trends
Download compliance documentation
Flexible appointment times
To minimise interruption of your facility's operations and to maintain safety, the Allstate pest control team offer flexible appointment times for your pest management needs.
Certifications & Compliance
Allstate team members are accredited and compliant with Australian standards, including:
Food safety standard HACCP
Quality standard ISO 9001
SAI Global certified as a quality endorsed company
Licensed by the SA Government Department of Health
Active members of the Australian Environmental Pest Managers Association
Although proactive pest control is the best approach to pest control, sometimes emergencies happen. If you need a reactive pest control treatment, the Allstate team are on-hand 24/7.
Our expert team is ready to help you now
or