Pest Control for Food Processing
Industry-leading pest programs to protect your business
Integrated pest management solutions
Compliant pest management
Flexible appointment times
ISO certified and HACCP compliant
With food health and safety often in the news, the Australian public is now more aware than ever about food processing standards. In this environment, pests aren't just a nuisance—they can ruin a brand.
While pests pose disease risks for the community, including salmonella and typhoid, they can also cause serious damage in your business. Pests can financially impact food processing plants in many ways, from product recalls, stock destruction, damage to buildings, machinery, and electrical hazards.
To prevent these problems and any following financial and legal impacts, it's crucial that you implement a highly effective, efficient, and safe pest control method like integrated pest management.
Our Routine Pest Prevention Program uses integrated pest management strategies to control pests in your business proactively. The program is designed to keep food processing facilities ahead of pests while maintaining staff safety and minimising disruptions – safeguarding you against the risk of an infestation.
Common Pests in Food Processing
Our expert team is ready to help you now
or
Integrated pest management
Integrated pest management is a proactive approach, which uses knowledge of pest behaviour to prevent outbreaks and treat them safely.
Allstate's Routine Pest Program uses this system to continuously meet legislative requirements while ensuring staff and consumers' safety – keeping you protected at all times.
Step 1: Pest Inspection
A trained pest control technician will inspect your business to create a personalised management program. This inspection includes:
Understanding the layout and design of the building
Inspecting the premises for entry points and potential pest dwelling areas
Understanding how your food processing plant operates (e.g. how supplies are received and stored)
Checking any previous pest reports
Examining the local environment for risk factors
Step 2: Pest Control Officer & Team
Following your pest inspection, Allstate will assign you a responsible officer and team, so your program can be implemented effectively. The benefit of having a dedicated pest control officer is the certainty that your strategy is being implemented by someone who knows your business's particular requirements.
Step 3: Provided with a Unique Pest Management Program
Integrated pest management strategies are so successful because each plan is tailored to a facility's unique requirements. Allstate will use the information gained from your inspection to design a pest management program.
The plan can include:
Guidance for staff on sanitation and other prevention methods
Future pest inspection frequency
Physical and chemical control methods
Advice for managing the surrounding environment
Building and maintenance exclusion practices
Step 4: Access to Allstate Online
You can manage your Allstate Routine Pest Prevention Program directly through the Allstate Online portal. With Allstate Online, you have 24/7 access to your pest management strategy, various tools, and compliance documentation.
Compliant pest management
Allstate knows that there is no room for error when it comes to pest control in the food processing industry. As a South Australian owned business, we take the health and safety of the community seriously.
With highly-trained and experienced staff, Allstate will ensure that your business meets all local laws and regulations, through knowledgeable strategies and approved treatments. We are committed to managing pests safely and comply with all relevant regulations, and we are ISO 9001 certified and HACCP compliant.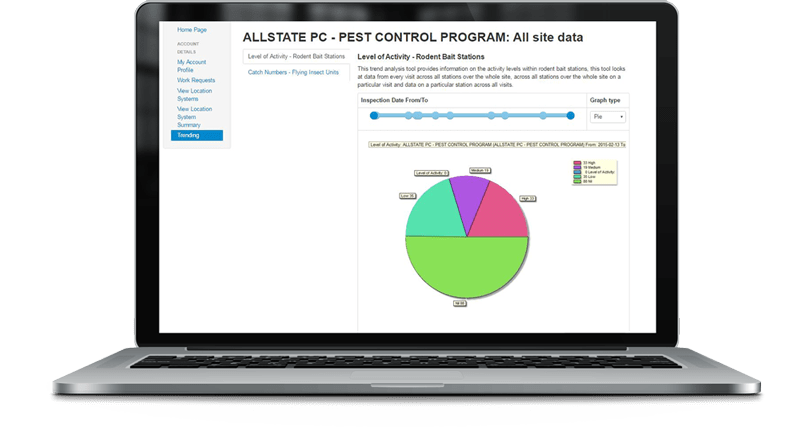 All commercial clients have access to Allstate Online, a portal to make pest managmement more convenient than ever. You can now report pest problems 24 hours a day, 7 days a week, and get professional advice and solutions quickly, before any damage is done.
Allstate Online also lets you:
Communicate with your pest control officer
Download and view reports and records
Access thorough details on your pest management plan
View trend analysis
Download compliance documents
Upload images and documentation
Flexible appointment times
With staff and consumer safety our foremost priority, we recognise the need to work around operating hours. The Allstate team works flexibly to ensure pest treatment and control measures are implemented at the best time for you.
Certifications & Compliance
Pest control in the food processing industry requires experience, knowledge, and certification.
At Allstate, our team members are certified and compliant with Australian standards, including:
Food safety standard HACCP
Quality standard ISO 9001
SAI Global certified as a quality endorsed company
Licensed by the SA Government Department of Health
Active members of the Australian Environmental Pest Managers Association
If you have a pest emergency, the Allstate team are always ready to take your call and offer urgent pest control. No matter what time of the day, you can be protected.
Our expert team is ready to help you now
or