Pest Control for Commercial Buildings
Maintain a clean environment and uphold your reputation
Integrated pest management solutions
Prevention-first approach
Flexible appointment times
ISO certified and HACCP compliant
All smart organisations prioritise safety, reputation and risk mitigation. Without appropriate management, pests pose a threat to all of these things. While many pests carry illness-causing bacteria and viruses, they can also cause building, property and stock damage, electrical issues, and can be a serious blight on business reputation.
The only way to avoid the risks is with a proactive pest control strategy.
Allstate's Routine Pest Management Program uses integrated pest management to give you a personalised solution with a proactive approach, targeting the areas pests live and breed.
Your dedicated pest control team has up-to-date technology and expert knowledge – keeping your commercial building safe from infestations, with minimal interruption to your operations.
Common Pests in Commercial Buildings
Our expert team is ready to help you now
or
Integrated pest management
Integrated pest management is a proactive approach to pest control. It uses extensive pest behaviour knowledge to find and treat hidden pests and control them through safe and environmentally friendly methods. It's ideal for maintaining a healthy environment in commercial buildings and office spaces, as it uses minimal chemicals.
At Allstate, our Routine Pest Management Program uses integrated pest management across four steps for guaranteed results.
Step 1: Pest Inspection
Your expert pest controller will thoroughly inspect your building to understand your unique needs, including:
Understanding the layout and design of the building
Assessing potential entry points and dwelling areas
Understanding your daily operations and how it may impact pest management or introduce pest risk
Checking any previous pest reports
Examining the local environment for risk factors
Step 2: Pest Control Officer & Team
After your inspection, Allstate will assign you a responsible officer and pest control team who understands your business. You can be sure that your pest management strategy is being applied with your specific requirements in mind.
Step 3: Unique Pest Management Program
With the information gained from your inspection, Allstate will design an individualised pest management program.
This plan is an in-depth resource for your facility and your pest control team. It includes:
Guidance on housekeeping and sanitation practices
Advice for suppliers who may enter the premises
Information on future pest inspections
Physical and chemical control methods
Advice for managing the surrounding environment
Building maintenance and exclusion practices
Step 4: Access to Allstate Online
Allstate Online gives you 24/7 access to your business' pest control needs. You can use the portal to access all your pest management details, download and upload documentation, track and analyse trends, and communicate with your pest control technician.
Prevention-first approach
The key to successful pest control in a commercial space or office building is prevention. With Allstate's Routine Pest Management Program, you can run your business with the knowledge that your staff and operations are always protected.
Using a proactive approach, you can minimise the interruption to your day-to-day activities and avoid costly (and riskier) reactive pest control.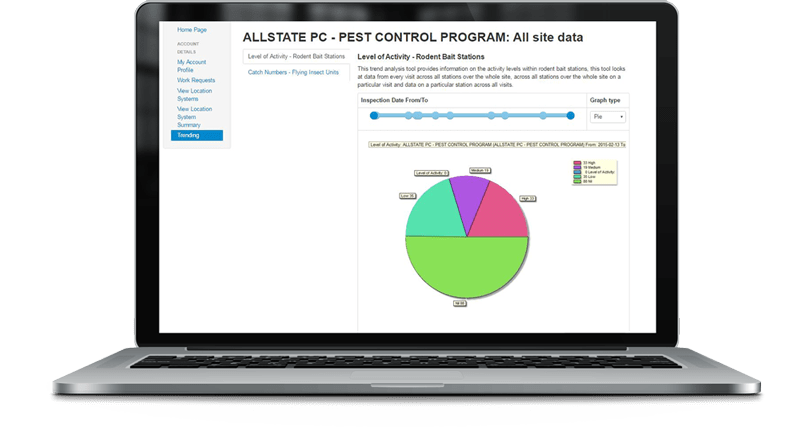 With your Pest Prevention Program, you will have access to Allstate Online. Through the Allstate Online portal, you can stay up-to-date on your pest management any day, any time.
With Allstate Online, you can:
Communicate directly with your pest control officer
Download and view service and risk management reports
Access thorough details on your pest management plan
View trend analysis
Download compliance documents
Upload images and documentation
Flexible appointment times
We know that your pest control needs to be flexible and not interrupt your business. That's why we provide flexible appointment times, so you can treat pests when it suits you, even on weekends and holidays.
Certifications & Compliance
Allstate team members are certified and compliant with Australian standards, including:
Food safety standard HACCP
Quality standard ISO 9001
SAI Global certified as a quality endorsed company
Licensed by the SA Government Department of Health
Active members of the Australian Environmental Pest Managers Association
Emergencies happen. Don't leave problems like nesting wasps, venomous spiders, or other emergencies prevent you from working. If you have a pest emergency on your premises, you can call Allstate 24/7 for urgent pest control.
Our expert team is ready to help you now
or