Pest Control for Aged Care
Proactive programs to keep facilities hygienic and residents safe
Integrated pest management solutions
Safe for vulnerable residents
Non-disruptive treatments
ISO certified and HACCP compliant
Aged care facilities are susceptible to pest infestations due to their wide-ranging facilities, including food preparation, bedrooms, bathrooms, and waste collection areas. And once pests enter an aged care facility, they can quickly cause health and safety issues, as well as legal problems.
With vulnerable people at risk of disease and intensely observed legislative requirements, keeping on top of pest control in aged care is essential.
Fortunately, Allstate's Routine Pest Prevention Program monitors, controls and prevents pests with minimal disruption to the facility's operations. We use integrated pest management –a prevention-first approach that considers your unique facility and environment to keep your premises pest-free and your staff and residents healthy.
Common Pests in Aged Care
Our expert team is ready to help you now
or
Integrated pest management
Integrated pest management is a proactive form of pest management. It works by using expert pest behaviour knowledge and modern methods to control pests with minimal safety risk and environmental impact. As vulnerable residents' safety is essential, an integrated pest management strategy is the optimal solution for aged care.
At Allstate, our Routine Pest Program is at the leading edge of integrated pest management in Adelaide. This program provides highly effective, safe, and long-term pest control in aged care settings through four simple steps.
Step 1: Pest Inspection
Your Allstate pest control technician will thoroughly inspect your facility and surrounding area to understand your unique needs, including:
The layout and design of buildings
Daily operations (including receiving and storage of supplies, sanitisation, and food prep)
Locating potential pest entry points and dwelling areas
Analysing previous pest reports
Examining the local environment for additional risk factors
Step 2: Pest Control Officer & Team
A strong understanding of your aged care facility is crucial to successful pest management. Once your inspection is completed, Allstate will assign you a dedicated pest control officer and team, who will stay up to date on your strategy.
Step 3: Personalised Program
With the information gained from your initial inspection, your Allstate pest control team will create a pest prevention program. This program will be unique to your facility's circumstances and needs.
It can include:
Building and maintenance exclusion practices
Guidance and information on maintenance and sanitation for staff
Advice for suppliers entering the premises
Information on future pest inspections
Control methods
Advice for managing the surrounding natural environment to reduce risk
Step 4: Allstate Online Access
You can stay informed on your facility's pest management 24/7 with Allstate Online. Through the portal, you can access your pest management and compliance documentation, track and analyse trends, and communicate with your Allstate team.
Safe for vulnerable residents
When implementing your pest control, the safety of residents and staff in aged care facilities is the number one priority. The Allstate team exclusively use APVMA approved pesticides and are certified to meet HAACP standards.
We also employ a wide range of other safety measures, with a strong focus on prevention-first methods to minimise the use of chemicals.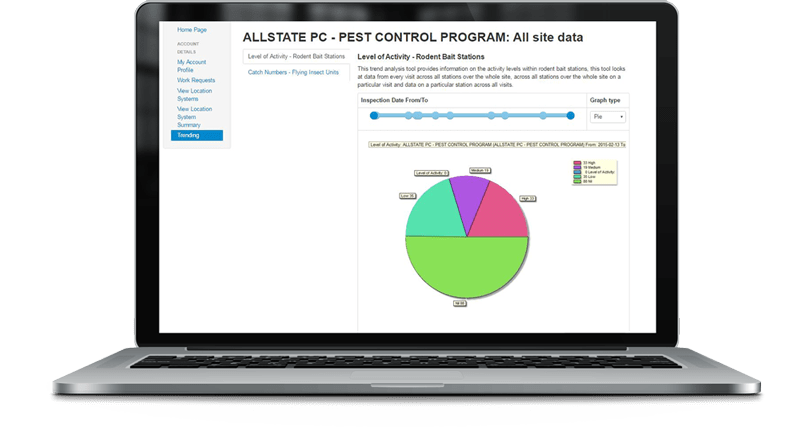 With 24/7 access to the Allstate Online Portal, you can quickly and efficiently manage your pest control at any time.
Through the portal, you can:
Review details on your facility's pest control and prevention strategies
Communicate with your pest control team
Download and view service reports and risk management records
Upload images and documentation
View trend analysis
Download compliance documentation
Flexible appointment times
To minimise interruption of your facility's operations and ensure the highest level of safety, the Allstate pest control team work flexibly to carry out your pest control services.
Certifications & Compliance
At Allstate, our team members are accredited and compliant with Australian standards, including:
Food safety standard HACCP
Quality standard ISO 9001
SAI Global certified as a quality endorsed company
Licensed by the SA Government Department of Health
Active members of the Australian Environmental Pest Managers Association
Although proactive pest control is always the best approach, emergencies do happen. It's imperative to deal with emergencies in aged care facilities quickly and efficiently. Allstate are available 24/7 for emergency pest control.
Our expert team is ready to help you now
or